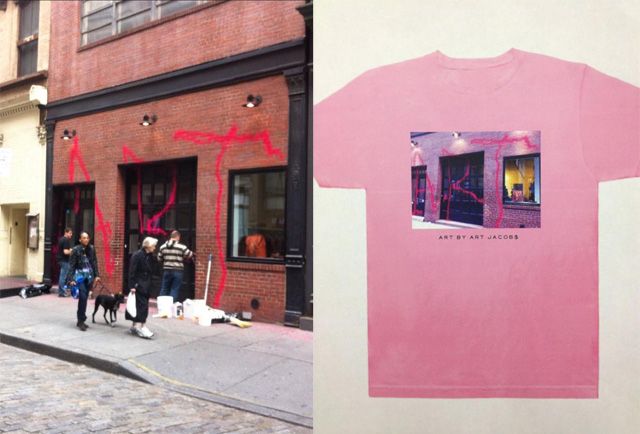 Marc Jacobs
has always been one of those super hip, avant-garde designers that can just take the most boring or ridiculous thing and turn it into a brilliant trend within moments - he's like an Ambassador for youthful style. Let's see...he's besties with
Lil' Kim
, released his own MJ condoms, has a
SpongeBob Squarepants
tattoo, dons lace dresses to the MET, and now he's proving his coolness yet again,
releasing a t-shirt featuring the very artwork that vandalized his Soho store last week
. After French graffiti writer
Kidult
took to the storefront with a paint-loaded fire extinguisher, spraying
ART
in huge letters across the entire facade, Marc decided to retaliate by photographing the tag, then printing it on a limited series of $689 t-shirts. Marc even went on to tweet: "
Available now for $689. Signed by the artist, $680
″. Apparently
Kidult
isn't happy about this one bit, especially since he won't be seeing a dime out of those tees, but he should just appreciate the free publicity. Either way, I'm pretty interested to see what he'll do next...